Hey Bookends,
It is time for another Book Traveling Thursday. This is a meme in which you pick a book based off of a theme. After that you pick that you look through all of the different editions and show the original cover, the cover from your home country, your favorite cover, and your least favorite cover. You can go to the goodreads group to find out the weekly themes.
This weeks theme is: A book you want to read on a lazy day.
For this topic I picked Summer Days and Summer Nights edited by Stephanie Perkins. This is a book which contains 12 short stories, all by different authors, which all revolve around love stories in the summer. I think that this would be a great book to just read on a lazy day because there are so many stories and it is focused around the summer.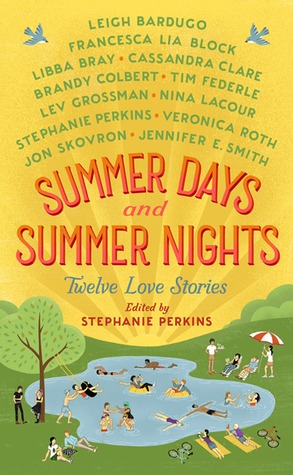 This is the original hardback cover. It is also the edition for my home country, the USA. It also happens to be my favorite cover. I love that all the couples are represented on the cover. I always like to read a story and try to figure out who is who on the cover. I also love that all of the authors are listed, although I have no idea why I do.
This is my least favorite cover. I feel like this makes the book seem like there is only one couple involved. I also don't feel the summer time feel that I get when looking at the other cover.
So that is all I have for this post. I would love to know your thoughts on any of the covers for these books. You can follow me on goodreads and Instagram to see what I am reading. Thanks for reading.